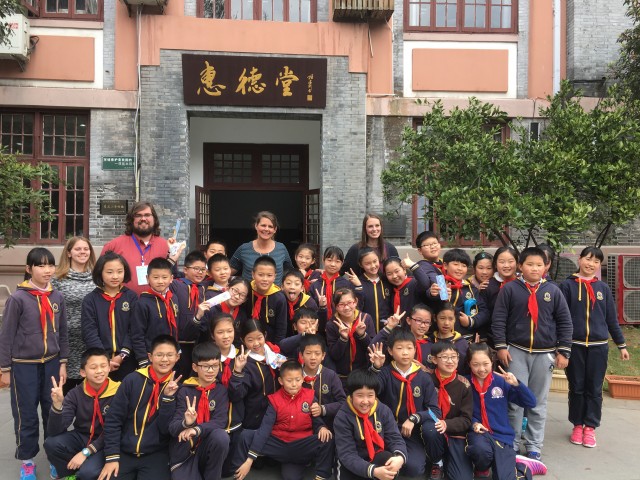 Over Spring Break, four of our teachers traveled to China to experience the incredible cultural, share in professional development, and teach students in a local school. While visiting, Mr. Mahoney, Ms. Smith, Ms. Mahoney, and Mrs. Mahoney were able to take in the sights and sounds of many different areas within China as they share in their blog,
4 Teachers in China
.
In addition to teaching lessons to local children, our teachers were also able to share teaching experiences and methods with hosting teachers and fellow educators. The team toured two schools in Hangzhou, and the incredible photos convey excitement and learning - in any language, for all ages! They also visited our sister school, Tian Chang Elementary School, and delivered gifts from area host families to the students who visited Madison last fall.
This opportunity was extended to teachers at E.O. Muncie, Lydia Middleton, and MJHS where partnerships with our sister school in China have been established. This international teaching experience was made possible, in part, through a very generous contribution from SuperATV and each teacher covering a portion of their traveling expenses.
We are very excited to continue our relationship with our sister school and hope to create expanded opportunities within our schools, for our students, and additional teachers as part of our continued strategic framework around global learning. This is the third recent trip by Madison faculty to foreign countries as a way to share and experience education in other areas of the world. Please Be sure to visit their blog,
4 Teachers in China
, to enjoy their China experience through the eyes of our teachers!