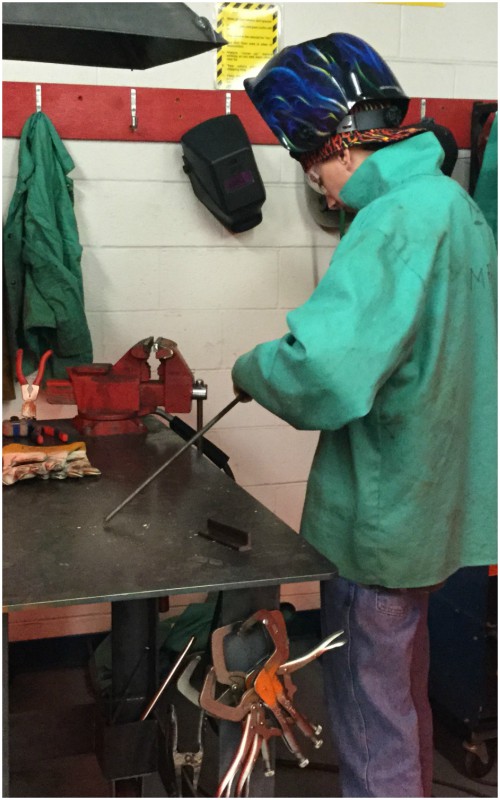 Cub Manufacturing is a work-based learning program at Madison Consolidated High School. As part of our PLTW curriculum and Advanced Manufacturing pathway, Cub Manufacturing offers students the opportunity to directly apply classroom learning in a hands-on production environment.
Established in August 2015, a number of community partners have made a significant investment in this project by donating equipment, time and expertise, and guidance through an ongoing advisory board which meets monthly to assess progress, process development, and projects. As partners in education, these area manufacturing leaders are faced with a pending retirement bubble of skilled laborers over the next 5 years or so and they see this model as a way to help students learn a trade and prepare them to enter the workforce all while completing their high school coursework.
Led by Industrial Arts Teacher, Mr. Ryan Lamb, Cub Manufacturing exposes students to all functional aspects of business as they tackle projects from conception to delivery. They learn about design, marketing, human resources, logistics, and finance. While the hallmark project - a portable chicken grill, is still in prototype phase; students have completed jobs for area businesses, community members, and various athletic teams and other schools within the district. Each job is unique and requires careful planning and thought to generate the computer design based on specs, determine material needs and cost, calculate the retail cost of each job, how to promote product and business, as well as, how to ensure payment is received and applied to the correct account.
From classroom to shop floor, the Cub Manufacturing model gives students a special perspective on learning application where they can see the outcome in a tangible form. We are very thankful to our community partners who have helped make this project a reality for our students.
IN THE NEWS:
Check out the
article spotlighting Cub Manufacturing and the statewide visit
from IN-PIN, a collaboration network between Center of Excellence in Leadership of Learning, the Department of Workforce Development, the Indiana Commission for Higher Education, and the Indiana Department of Education.
Be sure to follow us on our Facebook page -
Cub Manufacturing
!